In order to expand the use of materials, most of the sheet metal parts will be processed by sheet metal processing. This can change the shape or function of sheet metal parts, so more and more people choose sheet metal processing. In sheet metal processing, the more important is the processing of cutting, which is also very important for processing.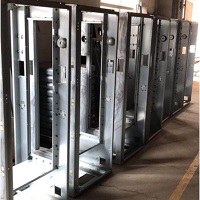 So how to cut in sheet metal processing?
Cutting processing in sheet metal processing is not only for shape change, but also for thickness and other aspects can be processed, so the effect of using in different cases is different. So cutting for sheet metal parts in the processing is to change its nature of the role, presumably we know the cutting method is also quite many.
The common methods are electric welding, plasma cutting, laser cutting and so on. When cutting in sheet metal processing, laser cutting is used. This is because the hardness of sheet metal is relatively hard, so laser cutting is also a good choice when processing.
When using laser cutting, the section is relatively neat and clean. In the post-processing time will be relatively simple, and in the use of time will be more consistent. In the use of time will not happen inconsistent situation, can play a considerable effect. In the process of cutting, attention should be paid to prevent the parts of cutting from being disordered.